How to choose the right heavy duty wheel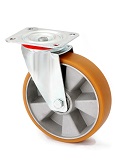 When selecting a wheel for your trolley we take several factors into consideration: the load on the wheel or the structure, the wheel diameter and the material of the contact layer. When selecting a wheel for a structure with a heavy load, special attention must be paid to the load capacity of the wheel. In the case of selecting heavy duty wheel This rule of threewheel load calculation applies when a trolley or structure hits a pit or rides on an elevation, so the entire load is transferred to the three wheels, which must carry the total load. This rule also applies when the load is unevenly distributed over the surface of the trolley.
The second important factor is the wheel material. There are two basic materials for heavy duty wheels: polyamide and polyurethane. If your production is related to food production or pharmaceutical production, then polyamide wheels are the best choice for you. They are resistant to aggressive media and can withstand a load of up to 1000 kg per wheel. Wheels with polyurethane contact layer can be used on virtually all floor surfaces, both inside and outside. The load depends on the material of the wheel rim. This is aluminium, and on high load wheels with reinforced brackets it is cast iron.
As a whole, the selection of the right wheel is not an easy process, so for more detailed information, please contact our sales department, where we will help you to choose the right wheel.